Dear customers,
EXP Tech will be closed from 14.12.2020 to 04.01.2021 for the Christmas Holidays. Last shipping day in 2020 is 11.12.2020. Please plan ahead.
Merry Chrsitmas and happy new year!

Yours sincerely
Your EXP-Tech team
Prices incl. VAT plus shipping costs
Ready to ship today,
Delivery time appr. 1-3 workdays
Order within the next
9 hours and 2 minutes
so the order will be shipped
today
.
Manufacturer:

Pololu

Order number:

EXP-R25-496

Manufacturer part number:

2692

Availability:

10

country of origin:

CN

HS code:

39269092

Weight (kg):

0.01
This ball caster is an improved version of our original Pololu Ball Caster with 1″...
more
This ball caster is an improved version of our original Pololu Ball Caster with 1″ Plastic Ball; we recommend this new version over the older version for all applications that are not somehow specifically tied to the previous design.
This ball caster kit includes a two-part black ABS housing, a 1″ diameter POM (also know as acetal or by the brand name Delrin) plastic ball, three 3×7×3mm ball bearings, and three dowel pins used to hold the ball bearings. When assembled, the ball caster is capable of rolling in any direction with low friction, making it suitable for use as a third contact point for wheeled, differential-drive robots weighing up to around ten pounds.
The base piece of the housing has holes for three #4 or M3 mounting screws (not included) and slots for ball bearings. The second part of the housing snaps into the base piece to secure the ball and ball bearings. The assembled ball caster has an overall height of 1.1″ (29 mm).
This ball caster is also available with plastic rollers instead of ball bearings.
Dimensions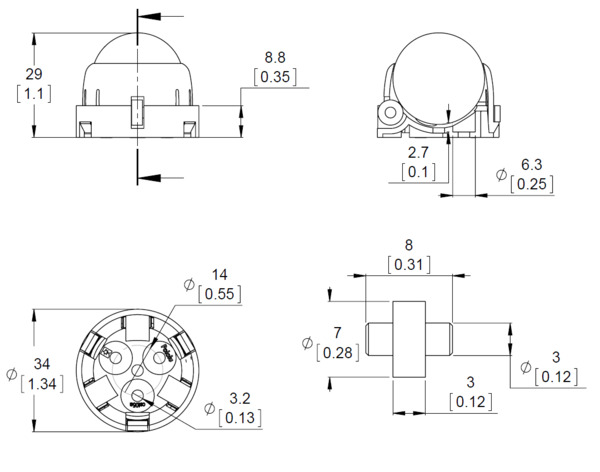 Dimensions of the Pololu Ball Caster with 1″ Plastic Ball and Ball Bearings. Units are mm over [inches].
This dimension diagram is also available as a downloadable PDF (134k pdf).
Comparison of Pololu ball casters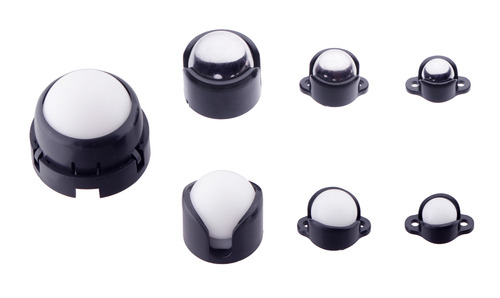 Pololu ball casters with plastic and metal balls. Ball diameter from left to right: 1″, 3/4″, 1/2″, and 3/8″.
Pololu ball caster
ball diameter

height with
no spacers

distance
between
screw holes

weight with
no spacers
or screws

3/8″ plastic ball

0.40″
0.53″
0.03 oz

3/8″ metal ball

0.40″
0.53″
0.14 oz

1/2″ plastic ball

0.53″
0.58″
0.07 oz

1/2″ metal ball

0.53″
0.58″
0.32 oz

3/4″ plastic ball

0.91″
0.24″
0.25 oz

3/4″ metal ball

0.83″
0.61″
1.05 oz

1″ plastic ball, ball bearings

1.10″
0.48″
0.65 oz

1″ plastic ball, plastic rollers

1.10″
0.48″
0.58 oz

1″ plastic ball (old version)

1.10″
0.70″
0.36 oz